Sports
Get To Know: USC Commit Xavier Grimble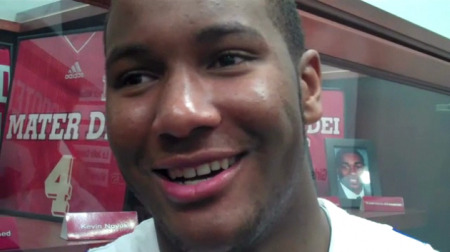 Xavier Grimble, USC tight end commit. (Shotgun Spratling)
Scroll down to watch the video at the bottom of the page.
The premier tight end in the country, rated No. 1 by all the major recruiting Web sites, Xavier Grimble blocks like a tackle and runs like a receiver. He could potentially put on extra mass and become an athletic offensive lineman. However, the 6-foot-6, 245-pounder from Bishop Gorman High in Las Vegas also has the soft hands of a gentle giant.
But those are the only things gentle on the Parade, Under Armour, Super Prep and Prep Star All-American. A very active blocker in the run game, Grimble has the ability to get nasty. He does a good job of working to the second level, which allowed Bishop Gorman to use him as a lead blocker pulling on plays to the weak side.
Grimble gets off the line quickly when running pass routes and is capable of staying in to pass block, but he often gives a lot of ground on his initial back peddle.
As he showed his senior season when he caught 39 passes for 705 yards and nine touchdowns, Grimble has elite athleticism for a tight end allowing him to line up occasionally at receiver at the high school level. He also can be a deadly target over the middle of the field with his size and ability to create space against linebackers and safeties.
The big man can get down the seam. Rivals.com has his 40-yard time listed as 4.7. He also runs well after the catch. Although he will get run down from behind by cornerbacks, he is shifty enough to make tacklers miss in the open field on occasion.
Grimble helped the Gaels finish 15-0 his senior season to win their second state championship in three seasons. They also finished ranked No. 25 in the nation by PrepNation.
We caught up with Xavier at the Nike Extravaganza high school tournament in Santa Ana where he was playing with Bishop Gorman's nationally ranked basketball team.
He talked about choosing USC despite Pete Carroll's departure, competition at the tight end position, his mom's cooking, his video game preferences, and talking to females.