Sports
Curse of Oregon: Trojans Destroyed By Ducks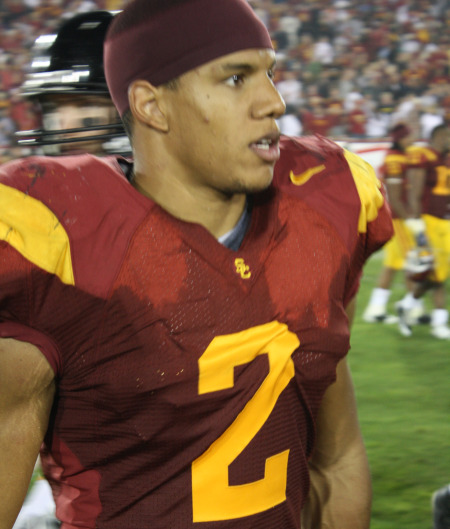 Senior Taylor Mays and the USC defense were abused in Eugene, Oregon on
Halloween. (Photo by Shotgun Spratling)
It was a whole lot of trick and a very little treat for the No. 5 USC Trojans as they were demolished by the No. 10 Oregon Ducks 47-20 on Halloween in Eugene, Oregon.
"It was a real mess for us tonight," said USC head coach Pete Carroll. "Oregon did everything that
they wanted to do."
The Trojan's defense was proverbially tarred and feathered by the Ducks, who racked up 613 total yards. Oregon quarterback Jeremiah Masoli threw for 222 yards and a touchdown and ran for 164 more yards with another score. The junior quarterback continually frustrated the Trojans with his ability to scramble on broken plays and either find open receivers or gain chunks of yards with his feet.
This is the third consecutive week in which the Trojan defense was abused. Last week the Trojans allowed the Oregon State Beavers to roll up 482 yards of total offense, a week after giving up 367 total yards in a 34-27 win at then-No. 25 Notre Dame on Oct. 17. The Trojans allowed an average of 8.6 points and 238.6 yards in their first five games.
The inconsistent play by a defense that started the season out hot begs questions of whether all the losses to NFL last season are finally being felt or whether USC's first five opponents were offensively challenged helping hide defensive inadequacies.
The Ducks scored on nine of their eleven possessions, including five scores on five second half possessions.
Meanwhile the Trojan offense was inconsistent and underwhelming. After scoring 17 first half points USC only mustered three second half points, compared to Oregon's 23 second half points.
"The biggest thing is realizing that there's nothing we can do about this loss," said USC quarterback Matt Barkley who completed 21 of 38 passes for 187 yards and two scores.
The loss drops the Trojans to 6-2 overall (3-2 in the Pac-10) and all but ends any hopes of a BCS Championship. It also could mean the end to seven straight Pac-10 titles as Oregon (7-1) remained undefeated and in control of the conference.
The loss was the Trojans' fourth straight in the state of Oregon.
"It was just an overloaded ballgame by them. Masoli was ridiculously effective," Carroll said. "We really had our chances to make things happen but we couldn't tackle them in the backfield. the runs that he popped whether scrambles or by design just broke our back. It was a very, obviously, difficult night."