Style
Summer Shoes Get The Boot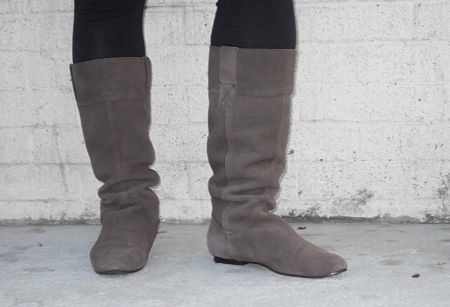 Even in sunny L.A., you better have your fall wardrobe ready--especially the footwear.
(photo by Francesca Ayala)
It's official. Summer's over. Once again, it's that time of year to shove those booty shorts, tank tops and sandals to the back of our closet shelves. Sweaters, scarves and trousers are ready to take their place.
Having spent the majority of my life in a tropical archipelago, there are only two seasons I feel truly comfortable with: heat waves and monsoons. I admit that I'm not the biggest fan of autumn and winter. In fact, I detest cold weather, particularly, dressing for it. I attribute this dislike to a childhood spent running around in either a swimsuit or just my underwear.
Getting dressed is more of a chore in the fall because people have to wear twice the amount of clothes. Frankly, I'd much rather wear flip-flops and Daisy Dukes and sweat buckets in 100-degree heat than waddle around in the cold wearing as many items of clothing as possible layered on top of each other. There's something about bundling up that just doesn't feel right to me. Most girls enjoy fall fashion and can't wait to splurge on all those cardigans, blazers, hats, gloves and tights. I find myself hesitant to troll through the boutique racks for autumn ensembles and as much as possible, try to avoid doing so. Except when it comes to shopping for one fall wardrobe staple: boots.
I own nine pairs of boots right now but have retired many more prior to those. I began my love affair with boots long before I experienced fall and winter. I grew up in the early 90's, when grunge and goth had grown so popular that they had angry young adults from all over the world stomping on conformity in Doc Martens and dELiA's, even in the sweltering heat of the Philippines. I started buying pairs of boots at the age of 13. My very first ones were a pair of black suede zip-up platform boots that came up to my knees. I remember how much my mom hated them, which was enough reason for me to perspire and prance around in them long after they'd hit their expiration date.
Over the years, my shoe collection underwent some serious expansion in the boot department. It was quite painful for me to decide, right before my move to Los Angeles a year ago, that my suitcase simply had no room for any of them. I consoled myself by thinking that L.A. weather didn't leave a girl much room to trudge around in a pair of boots.
I was horribly mistaken.
The premise that Los Angeles was a city of 24/7 sunshine rapidly faded as soon as fall rolled around last year. I found my feet freezing in my Airwalk flip-flops by mid-September. By the fourth time I walked home with blue toes, I resolved to rekindle my romance with boots.
I walked over to Urban Outfitters to peruse my options. I wasn't too pleased with what the store had to offer. Their autumn collection was composed almost entirely of fringed hippie boots, 16-hole workman's boots, vintage cowboy boots and zip-up stiletto boots. I worried that I couldn't turn any of the above mentioned into a fall wardrobe staple without pigeonholing myself into a stereotype. Then, finally, I saw them.
They lacked all the laces, buckles and heels that the other boots boasted on the footwear shelves. They were simple, low-heeled boots in light grey suede. I loved them so much I didn't even bother to try them on. Eager to beat the hipster kidlets filing into the store at the check out line, I rushed the sales associate for a size 6 pair of the boots and made a beeline to the cashier. In a single swipe of my Mastercard, I was reunited with a long-lost trend.
I decided to break in the grey boots the very next day. My boyfriend at the time requested that I accompany him to his friend's barbecue in the Hollywood Hills. I knew I'd been invited for very specific reasons. First of all my significant other was an actor and his "friend" was a casting director. However, the friend/casting director was gay and made no secret of his blatant attraction to my boyfriend. Despite his motives, I conceded not only to act as a personal c**k blocker, I also volunteered to whip up my signature deviled eggs for the party.
I didn't really know anyone at the barbecue, but as it turned out, the hors d'oeuvres and my new boots proved to be terrific icebreakers. I made several new friends that evening and somehow, managed to impress the host with my mediocre karaoke skills (yes, he had one of those fancy microphones that you hook up to your television for an instant karaoke house party).
The boyfriend and I finally got home at around four in the morning. He thanked me profusely for accompanying him to the barbecue and preparing my trademark party treat for a bunch of strangers.
"By the way," he said, "You look really hot in those boots."
Pleased with the compliment (they came few and far between with him), I was ready to finally call it a night. I sat on the edge of our bed and got ready to pull off my new suede boots... except I couldn't. For some reason, they were stuck. I knew they were a little snug when I slipped them on, but now, for the life of me, I couldn't take the damn things off.
By the time my boyfriend looked over at me, I was lying back on the bed with my right leg dangling over the edge, left leg bent towards the ceiling as I tugged and pulled with all my might at the heel of my left boot. It wouldn't budge.
"Do you need any help over there?" he asked, trying to stifle a laugh.
I nodded my head and let out a sigh of defeat. He ambled over to me, cupped the left heel of my boot in his hands and pulled as hard as he could.
"What the f**k?" he exclaimed. "How'd you even get these on?"
After five minutes of huffing and puffing, he finally yanked my left boot off, and in the process, nearly hit himself in the face with it.
I should've tried the damn things on.
Then again, considering how the relationship ended, I wish my boot had hit him in the face.