Living
L.A.'s Pumpkin Patches Producing Profits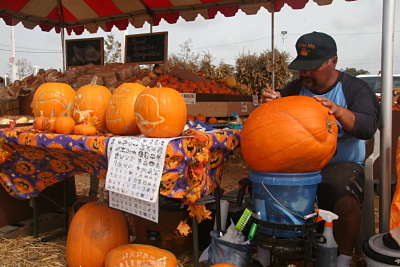 For those without the skill - or desire - to carve their own pumpkins, some
pumpkin patches, like Pa's in Long Beach, even have someone to decorate
your gourd for you. (Katie Evarts)
Despite a lingering economic recession, the pumpkin patch business is in full swing this Halloween season, and most retailers seem determined to add as much to your pumpkin-picking experience as possible.
Gone are the days when all a pumpkin patch offered was a parking lot dotted with lumpy gourds and a haystack or two.
Pony rides, face painting and bumper boats abound at L.A. area pumpkin patches, and people are taking advantage of the carnival atmosphere, according to patch proprietors.
"Definitely the petting zoo is the big attraction," said Eliane Wilk, who works at Shawn's Pumpkin Patch in Santa Monica. "City kids don't get to see a lot of animals, and we have baby goats, we've got chickens that lay real eggs, and they get all excited."
Wilk said she expected business to drop this year due to the economy, but sales have been better than expected.
"The economy seems to be picking up a little," she said. "Last year sales were down about 10 percent, but this year they're up 15 percent."
The Halloween Harvest Festival at Pierce College in Woodland Hills is about as close to a real country fair as you can find within L.A. County.
It offers a giant corn maze, a huge haunted house, a stage show called "Spookley the Square Pumpkin," and pumpkins of all shapes, sizes and colors.
Although it grows its own pumpkins, this year the festival has had to bring in more from outside to keep up with demand.
"We're actually feeling kind of good about this season," said Robert McBroom the director of the Piece College Farm Foundation. "The families are out, maybe that 'staycation' atmosphere of, don't go anywhere, stay local, is giving us the local ability to service our community."
At the Lopez Pumpkin Patch on 3rd Street and Fairfax, not many customers were wandering around the small lot looking at the more traditional decorations in the middle of the afternoon, but sales are strong here as well, according to manager George Lopez.
"Kids don't care if the economy is up or down," Lopez said. "It's still Halloween."
Most customers browsing the pumpkin patches said they were not scaling their Halloween plans back this year, but some said they were saving money in small ways.
"Now that you mention it, we made our party potluck this year," said Kate Smith, who said she and her husband have a Halloween party for her 6-year-old daughter and her friends every year. "Usually we throw it and provide everything, but this year we said okay, we'll either not have the party or we'll make it potluck."