California
High-Speed Rail Advocates Seek Funding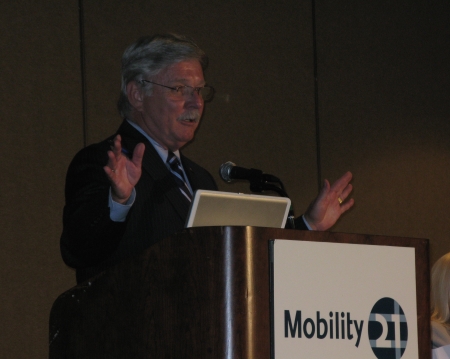 Art Leahy, chief executive of the L.A. County MTA (photo by John Guenther)
California's high-speed rail project linking Southern California with the Bay Area is rolling, but has two steep hills to climb - a $45 billion price tag and residents wary of an elevated train in their backyards.
Art Leahy, chief executive of the L.A. County Metropolitan Transportation Authority, is optimistic, pointing out the $9.95 billion secured for the project from state Proposition 1a and California's status as a front-runner vying for federal stimulus money for rail projects.
"I look forward to taking the high-speed rail line up here to see the Dodgers beat the Angels in a future World Series," Leahy said Monday at the Mobility 21 transportation conference.
A line between Los Angeles and Orange County could easily be one of the first segments completed, he said, noting an existing rail corridor. In addition, the population density, combined with current commuting patterns, could make it a revenue generator immediately, he said.
Without federal money, however, the project will stall. While the Obama administration has expressed support for high-speed rail projects around the country, states have to split up $8.2 billion the administration set aside. Also, a transportation bill has been held up in Congress.
When asked where California will get the rest of the money needed, Leahy replied that the rail project will be a long-term investment.
"It's not going to happen in one year, two years," he said. "But we have to have a government which is interested in investment in domestic infrastructure."
Projects that qualify for the federal stimulus money must begin by 2012 and be completed by 2017, said Carrie Pourvahidy, chief deputy director of the California High-Speed Rail Authority.
So the federal money will only go toward completing a Los Angeles-to-Anaheim segment and parts of the San Francisco-to-San Jose corridor as well as the Merced-to-Bakersfield corridor, she said at the conference.
According to a notional timeline, ground would be broken on parts of the rail network in 2011, Pourvahidy said. A demonstration project located in the Central Valley would be completed by 2015. Test tracks would be located anywhere from Merced to Bakersfield, depending on the funding available. At some point between 2018 and 2020, service would begin.
But sticking to this schedule will require a far-reaching plan to inform the public before construction begins, Pourvahidy said. "People are already saying 'Oh, my god! High-speed trains are coming through my community,'" she said.
Pourvahidy said her agency will make community presentations and meet with city planners and local officials. Outreach on environmental issues has already started, she added.
Cities in southeast L.A. County are becoming concerned about the possibly of having 40-foot-high walls between the tracks and neighborhoods, Leahy said. A tool for dealing with those concerns could be to clearly state the project's vision, he explained.

"It's easy to imagine going to San Francisco for the weekend. So, I think it's a matter of figuring out how we describe that vision in the context of mitigating local community impact."