Film and TV
Emmy Awards Round Up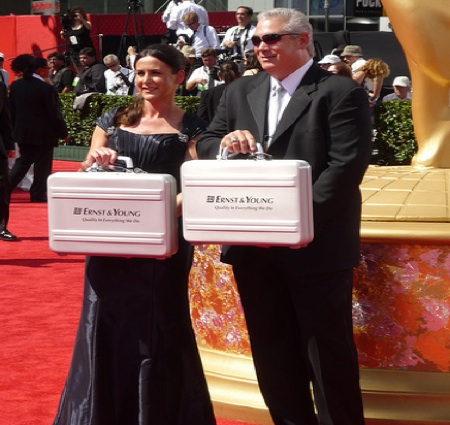 The winner envelopes to the 2009 Emmys were held in these cases.
(Creative Commons Licensed)
"30 Rock," NBC's comedy series about a variety show, swept the 61st Annual Primetime Emmy Awards Sunday night at the Los Angeles Nokia Theater. The show was nominated for 22 awards, staking its claim as the most nominated series in one category.
AMC's critically acclaimed "Mad Men" won Outstanding Drama Series for its second year in a row. The show's writers, Kate Gordon and Matthew Weiner, also won for Outstanding Writing in a Drama Series.
Alec Baldwin won his third Emmy for Outstanding Lead Actor in a comedy series for his work on "30 Rock." Toni Collette won in the Outstanding Lead Actress in a Comedy Series category for her role as a housewife with dissociative identity disorder in Showtime's "The United States of Tara." Bryan Cranston of "Breaking Bad" and Glenn Close of "Damages" took home the Emmy for Outstanding Lead Actor and Actress in a Drama Series.
Kristin Chenoweth cried onstage when she accepted the first award of the night for Outstanding Supporting Actress in a Comedy Series. Her role in the canceled series "Pushing Daisies" brought the critical darling back into the spotlight ("Monk" and "Samantha Who?" were also nominated despite being canceled). Chenoweth, who will appear on upcoming episodes of FOX's "Glee," said she is looking for a job.
Host Neil Patrick Harris opened the show with a song and dance number making sure viewers "Don't Put Down the Remote" and teased Paula Abdul for not attending. Harris also joked about the Internet being the future of television with a skit from the online sensation, "Dr. Horrible's Sing-Along Blog," which displayed the obvious flaws in watching television online. Harris was nominated for Outstanding Supporting Actor in a comedy series, but lost to Jon Cryer of "Two and a Half Men."
Producers divided the show into five genres: comedy, reality, variety, movie or miniseries, and drama. Presentations for Outstanding Comedy and Drama Series were postponed to the end of the show.

CBS took home both awards in the reality series category for television's newest genre with Jeff Probst of "Survivor" taking home his second award for Outstanding Host in a Reality or Reality-Competition Program. "The Amazing Race" won the Emmy for Outstanding Reality Competition Show.
In the movies and miniseries category, HBO won five of the eight awards. "Grey Gardens," a remake of the 1975 documentary about Edith Bouvier Beale and her mother Edith Ewing Beale, won three awards including Outstanding Supporting Actor (Ken Howard), Outstanding Lead Actress (Jessica Lange) and Outstanding Miniseries or Movie.
"Little Dorrit" the PBS-BBC miniseries based on the Charles Dickens novel won in the Outstanding Miniseries category. "The Daily Show with Jon Stewart" won the Emmy for Outstanding Variety Show.
"Dancing with the Stars" dancer Maksim Chmerkovskiy performed with ex-fiancée and co-star Karina Smirnoff along with the winners of America's Next Dance Crew. And Sarah McLachlan sang "I Will Remember You" to commemorate the last year's deaths of actors and industry legends including Natasha Richardson, Beatrice Arthur, Ed McMahon, Paul Newman, Michael Jackson, Patrick Swayze, Farrah Fawcett and Walter Cronkite.
This year, the Academy increased the number of nominees in each category to six to include mainstream shows among shows that were well received among critics but had poor viewership, the Associated Press reported.
Check Emmys.tv for a complete list of winners.