International
Refugees Fear Closure of Cape Town Visa Center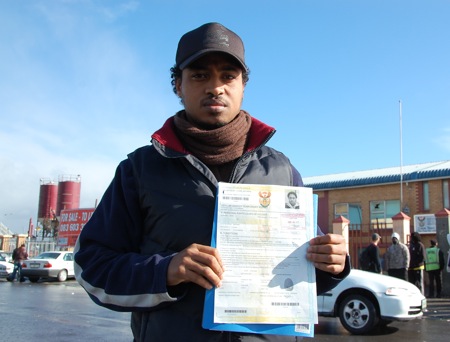 Elias Adebe, 28, from Ethiopia has been on temporary visas of 3 to 6 months in
South Africa for five years. He was recently denied papers by the Department of
Home Affairs for the first time. Adebe said he has hired a lawyer to help him with
an appeal, but his boss at a food delivery company will not let him work until the
department has renewed his papers. Adebe said he has been coming to the visa
office near Nyanga day after day and had even slept outside to be at the front of the
line in the morning. (Richie Duchon)
CAPE TOWN, South Africa -- Refugees from countries across Africa seeking visas from the South African government have expressed concern about the relocation of a Cape Town refugee center, a day after a court ordered the Department of Home Affairs to close it by September 30.
The Western Cape provincial high court ordered closure after long lines, inefficiency and recurring violence at the centre became a regular occurrence.
The Nyanga Refugee Centre, just south of Cape Town International Airport, has been an arrival destination for many asylum seekers from poor and war torn African countries like Zimbabwe, Nigeria, Somalia, and the Democratic Republic of Congo.
The possible closure or relocation of the center left many refugees waiting in line at the center Thursday worried about a resurgence of violent attacks against foreigners that climaxed in May 2008, but still continue sporadically.
Burundian Selemani Charles, 36, said he fled violence in his home country 8 years ago and has been on a temporary visa since 2001.
The barber shop owner said he comes every three months to the Nyanga center to renew his visa, sometimes sleeping outside for several days to get a good spot in line.
Charles said rumors began circling among the refugees that Home Affairs (South Africa's equivalent of the INS) was going to move the center to Khayelitsha, a huge crowded township on the outskirts of Cape Town.
He and several other refugees said Khayelitsha residents have been particularly hostile to foreigners and they feared violence if the center were to be moved to there.
"We don't know what's going to happen, but I don't think this office will be safe until someone comes out to tell us what to do," he said.
Charles conceded that the Nyanga Centre had become more efficient since the Minister of Home Affairs made a visit there two weeks ago.
However, he added, "I don't trust that it will last."
South African Charmine Abrams said she had been waiting outside the center Thursday for more than eight hours for her boyfriend from the Democratic Republic of Congo to renew his papers.
"If (the closure of the office) means people can get better service, great," Abrams said, "but if it means moving to Khayelitsha, I'm worried about their safety."
Home Affairs spokesman Ronnie Mamoepa said Thursday that Home Affairs Minister, Dr. Nkosazana Dlamini-Zuma, needed more time to consider the judgment calling for the center's closure or relocation. "At this stage we respect the judgment of the court," he said.
Mamoepa declined to comment on the process of considering a new site for the refugee center. He said that it remains the view of the minister that "we need expansion of the services being offered (in Nyanga) to sites in the Northern Cape and Eastern Cape provinces," poor rural areas that lack many of the services accessible in the more well off Western Cape province.
Mamoeopa would only add that choosing a new site is an administrative process that involves feasibility and other studies. "Let's leave this to the minister."
Asked when the minister will decide where the refugees would be able to apply for and renew papers, he said, "Soon."