Los Angeles
Highland Park Residents: Gangs Part Of Everyday Life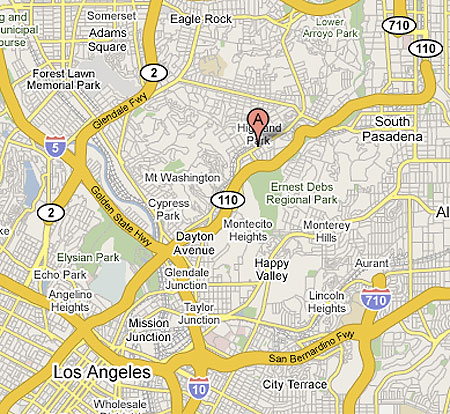 (Google Maps)
On Avenue 54 in the Highland Park neighborhood, Benjamin Franklin High rises up as a cool block of cement and metal. Inside the school, children walk quietly between classrooms. Across the street, uniformed students take gym class.  A police car is parked nearby. 
The tranquility belies the fact that in mid-March, two Franklin students were shot and killed a few blocks away, just after school let out for the afternoon. Â 
The two boys, Carlos Hernandez and Alejandro Garcia, gunned down outside the recreation center on N. Figueroa, were not involved in gang activity, according to several residents. Â However, police said their deaths could have been gang related. Â 
The neighborhood is rife with contradictions regarding community safety. "It's a fairly normal community," Franklin guidance counselor Reidiny Martinez said, even while acknowledging there was gang presence in the neighborhood and "some streets may be a little more dangerous than others."Â 
"The school itself is very calm," principal Luis M. Lopez said. "But we are very strict about the things that they can't wear. For example, the A's hat represents the Avenues, and Avenues is the largest gang in the area."Â 
Lopez grew up in the neighborhood and graduated from Franklin. "I think it's been constant for years," he said about the gang violence. 
"When I was here, they were here," Lopez said. "There's times when it's very active and times when it slows down."Â 
The Avenues, which is named after the avenues that run along North Figueroa Street in Highland Park and surrounding neighborhoods, has had a long and violent history in the neighborhood.  They became nationally known in 1995 when gang members shot a car in Cypress Park killing a 3-year-old girl.  In 2006 gang members were convicted of hate crimes aimed at driving African Americans from the predominantly Latino community around Highland Park. 
Gang involvement with the Avenues, HLP (Highland Park gang) or Dog Town--two other local gangs--is a concern for many young people in the area.
"There is a lot of pressure for young kids," said 20-year-old Jose, a former Franklin High student. "Gangs target the young kids - young and dumb like they say." Â 
Martinez, who trains with students for the L.A. Marathon, said while some students will run anywhere in the neighborhood, others are more worried,  "They will say, 'Miss, I cannot go through there,' so it depends on who you ask," she said. 
Martinez said that one student told her he "didn't want to end up like them" - the two boys who were shot. Â Â 
"He did not disclose what type of things they were involved with," she said. "You know, we can't talk about that." Â 
While gangs may be visible in the community, residents said not all young kids are affected. "As long as they are on the right path, not looking for trouble, it's not a bad place to grow up," said Jose, while supervising a game of football at the Highland Park Recreation Center
"I think the vast majority of our kids are very good kids," Lopez said. He estimated that only 5 percent of the student body is "hardened," but said that minority is "vocal and active and aggressive."Â 
Three boys--5th, 6th and 7th graders--who said they were friends of the victims, said they haven't been pressured to join gangs, "We mostly just play basketball and mess around, not get involved." Â However, when asked if he felt safe in the neighborhood the 6th grader shook his head shyly. Â 
One teenage girl added, "I feel like I can go anywhere, but not alone."
A mechanic who has worked across the street from the recreation center for 10 years said he thinks that the city has gotten worse, "Highland Park used to be the best part of L.A. Now, there are gangs." Â 
However, not all residents are as pessimistic about the neighborhood. "It's a lot like around USC, it has its bad spots and good spots," said Joe, a local parent, who grew up near the University of Southern California. "I was shocked [the shooting] happened. Â It's pretty safe, there are always police around."
The school has tried to allay parents' and students' fears and stresses. City Councilmen Jose Huizar and Ed Reyes came with the local police captain, the district attorney, and school board members for a safety forum after the shooting. "The auditorium was filled," Lopez said. 
"There was a little bit of disappointment, because there wasn't any tangible or specific strategy other than just what they are already doing," he added. "I don't know how realistic it is to expect any more from the city, especially at this time, but they didn't provide anything."Â 
The question of police presence, or lack thereof, comes up frequently. Kennedy Garcia, another parent at the park where the shooting took place, said that squad cars will just drive by the park, even when there is illicit activity going on. "Police pass. [They say] 'Eh, no problem,'" he said. 
"Right after the incident, I noticed a lot more police presence," Martinez said. "Now, two weeks later, we have nothing." Â 
The presence in the neighborhood of gangs and the accompanying violence seems, if not prevalent, certainly tenacious. While residents expressed surprise at the deaths, it was tempered by resignation. 
"In this community, the families are very hard-working," Martinez said. "Sometimes, they don't realize what their kids are doing."Â