Pop Culture
Resident Evil 5: Rambunctious Or Racist?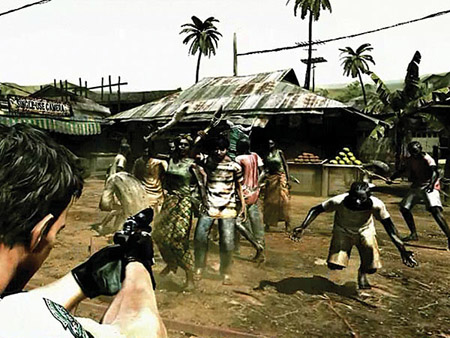 Some critics have said setting the new video game Resident Evil 5 in Africa is racist
because the white main character kills hordes of black Africans.
Hungry gamers waited in line Thursday night for the midnight release of Resident Evil 5, impatience haunting the pavements outside local game stores. It has been four years since the last installment, Resident Evil 4, hit the Nintendo Gamecube, and the newest zombie fest has already sparked controversy, from its style to its morals, since the trailer debut back in May 2008.
For fans of the Resident Evil franchise, outrage is blooming at the game's deviance from the horror genre as it transitions into the realm of action. But for some, it's the game's underlying values that force a double-take.
The newest installment of Capcom's Resident Evil franchise takes place among the dry plains of West Africa, where a deadly virus is plaguing local villages and turning residents into zombies. Chris Redfield, the hero of the first Resident Evil, is now working for an anti-terrorist group to erradicate the zombie threat.
Infected Africans pounce from the enclaves of abandoned shantytowns, with bloody eyes and drooling mouths that open like fleshy Venus Flytraps with teeth, and your mission is to gun them down before they eat you. It is a game of uncomplicated violence in the genre of survival horror.
Yet, there are plenty of reasons to tag Resident Evil 5 as "racist," according to Wall Street Journal columnist James Brophy-Warren:
"As a player, you are often forced to use a machete to hack your way through your attackers, using the same kind of weapons that were used in atrocities in places like Rwanda and the Congo over the last two decades," writes Brophy-Warren. "And while Chris's partner, Sheva Alomar, is from the region, she's light-skinned with straight-hair, and is introduced to players during a cinematic sequence highlighting not her face, but rather, her rear end."
An interesting, if somewhat deluded and hypocritical, argument is emerging. On the one hand, critics such as Brophy-Warren are accusing Capcom of choosing a setting that is innappropriate because of its historical context, risking the perpetuation of stereotypes. On the other, the female lead character does not conform enough to those stereotypes.
The initial cut scene, which can be viewed here, introduces West Africa as a collection of impoverished villages among sparse plains. The tribal-sounding music is accompanied by buzzing flies, and as Redfield pulls up in his jeep, women carrying baskets on their heads pass by. The heroine is, indeed, introduced with a two-second shot of her walking into the frame, viewed from behind, before the shot moves to her face.
But Brophy-Warren need only play any other video game ever made to realize that, yes, violence is abundant and women are sexualized. Resident Evil 5 is no exception. In this game, certain types of unlockable content, including new costumes, actually reward players with the ability to make female-partner Alomar even more scantily clad. The accusation, too, that Africa is an innappropriate setting for a violent video game serves only to mystify and isolate the continent. If the portrayal seems unfairly balanced, it is because the purpose of the game is not to expand perspectives of one culture or another, but to kill zombies.
The location of Resident Evil 5 is actually well-suited to the content of the game, according to Mike Fahey of Kotaku.com.
"Zombie stories originated in the Afro-Caribbean Vodoun belief system, so for a series that relies on zombies as its main antagonists, exploring the voodoo origins of zombie mythology seems only natural, and in order to do that you are going to end up exploring villages that just don't happen to have many Caucasians in them," writes Fahey.
But N'Gai Croal from Newsweek disagrees. "This imagery has a history," Croal told MTV's video game news site, Multiplayer. "It has a history and you can't pretend otherwise. That imagery still has a history that has to be engaged, that has to be understood. ... If you're going to engage imagery that has that potential, the onus is on the creator to be aware of that because there will be repercussions in the marketplace."
Resident Evil 5 is the first of the Resident Evil games to be set outside America or Europe.