Los Angeles
Marijuana Dispensaries Still Wrapped In Legal Haze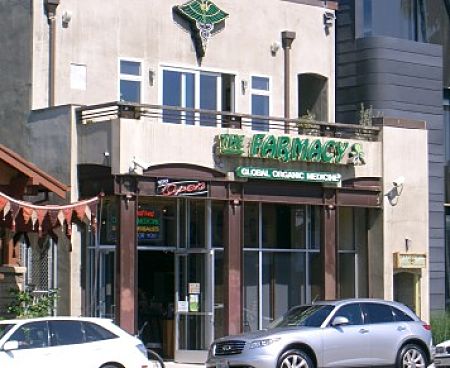 The Compassionate Use Act of 1996 legalized Californians' use of marijuana for
medical treatment and allowed for the establishment of medical marijuana
dispensaries, like The Farmacy in Venice. (©Emilie Mutert)
Despite President Barack Obama's campaign pledge that federal resources would no longer be used to raid state-recognized legal medical marijuana dispensaries, federal drug enforcement agents raided three Los Angeles-area stores in early February.
The Beach Enlightenment And Compassionate Healing Collective in Playa del Rey was one of the raided dispensaries. An employee who did not want to be identified for fear of his personal safety said that agents were not aggressive and made no arrests.
"They came into the store, explained why they were there, then took all of our medicine and merchandise, all of our money and left," he said. "Basically, what they do is try to shut you down, so you can't operate anymore, because to them it's still illegal."
Between 2007 and 2009, federal drug enforcement agents
raided at least 60 dispensaries
nationwide. The Drug Enforcement Administration periodically conducted dispensary raids to reinforce the businesses' illegal federal status.
But on February 25, after medical marijuana supporters protested the raids, Attorney General Eric Holder officially called an end to the policy.
"What the president said during the campaign, you'll be surprised to know, will be consistent with what we'll be doing in law enforcement," Holder said. "He was my boss during the campaign. He is formally and technically and by law my boss now. What he said during the campaign is now American policy."
And two weeks after it was raided, the BEACH Collective was back to doing business.
But even though federal agents won't soon be returning to medical marijuana dispensaries in Los Angeles any time soon, the businesses still operate in a legal limbo.
Since California voters passed the Compassionate Use Act in 1996, doctors have had the right to prescribe marijuana to qualified patients suffering from conditions ranging from chronic anxiety and anorexia to cancer and rheumatoid arthritis.
The act, also known as Proposition 215, relieved qualified patients and their "primary caregivers" from the threat of legal punishment for the cultivation or purchase of marijuana.
But the Act did not specify where and how patients could obtain marijuana for their personal medical use. Instead the law, an addition to the state Constitution's Health and Safety Code, stated that it was intended "to encourage the federal and state governments to implement a plan to provide for the safe and affordable distribution of marijuana to all patients in medical need of marijuana."
Even though that plan has yet to be implemented, the Medical Cannabis
Caregivers online directory currently lists 110
dispensaries in operation in Los Angeles County to serve patients with
legal prescriptions, while the directory on the Web site of the
California branch of The National Organization for the Reform of
Marijuana Laws lists 91 dispensaries in downtown and
West Los Angeles alone.
One of those listed, The Farmacy, is located in the heart of downtown Venice on Abbot-Kinney Boulevard.
Manager Dustin Kaufman, whose parents own The Farmacy in Venice and another location in Westwood, said their business operates as an upstanding member of the local community.
"We've never had any complaints from neighbors about us being here. We follow all the rules here. We pay taxes, we go to local chamber of commerce meetings, and people are happy to have us bringing more business to Abbot-Kinney," Kaufman said.
Venice resident Roger Webster agrees that The Farmacy doesn't have a negative impact on the community.
"I think it's a good thing. Should they be in our communities? Yes, there's bars in our communities, so I think marijuana dispensaries should be a part of our local economy too. Maybe they should keep them a thousand feet from schools, that's what they do with bars, but yes, I do think it's a good thing for the community," Webster said.
Webster is also a property owner in the Venice area, so he knows that many property owners are hesitant to lease building space to dispensary owner-operators because of their questionable legal status.
Since 1996, California's dispensaries have been operating in a kind of legal vacuum. The state of California recognizes their purpose and allows them to operate legally to serve residents seeking medical relief.
But the state has not established regulations for the dispensaries themselves -- where they can be located, what (if any) additional taxes they must pay or who can open and operate them. There are also no federal regulations for the establishment of medical marijuana dispensaries, because marijuana is classified as a Schedule 1 drug and no one has a legal right to purchase, sell, possess, cultivate or use the substance under federal law.
So the responsibility for regulating the placement of the businesses falls to local jurisdictions, which vary widely in their awareness of the issue and their policies for establishing the dispensaries. Because of the lack of regulation, the marijuana dispensaries, unlike liquor stores, late-night gyms, bars and some other types of businesses, don't have to register or seek approval from local city or neighborhood councils. Thus, they tend to sprout up relatively unnoticed.
Which is why some residents in Eagle Rock, a neighborhood bordered by Glendale, Highland Park and Pasadena, were surprised to see a new sign for the "Green Goddess Collective" in an empty Colorado Boulevard storefront last May. Their curiosity piqued, they did a quick survey of their neighborhood, which revealed that their 2-square-mile, largely residential neighborhood was already home to 11 different dispensaries.
Bob Arranaga from the Eagle Rock Neighborhood Council said he and other residents were shocked when they found out about all the dispensaries operating within a stone's throw of their homes.
"I said I thought I'd noticed two or three in the area," he said, "but I never thought there could be 11 of them without anyone noticing. How could they build so many of these places without our knowledge when there are schools and churches and our families living just down the road?"
Arranaga and most of his fellow council members voted in favor of the Compassionate Use Act, he said, and none of them have a problem with sick people using marijuana to improve their health or relieve their pain.
"But the problem is, anyone can put up a dispensary, in any location they want. They can move in across the street from an elementary school or a church. And then you'll see ancillary businesses start to come up right by the dispensaries, like smoke shops. And all that's fine, but you want to be able to have control over what's going up on the corner right next to your children's school," he said.
When the Los Angeles City Council met on March 6 to address the issue, council members said the dispensaries' proximity to schools was one of the most important aspects of the issue.
The resolution from the meeting stated, "The Los Angeles Police Department has received complaints from
neighbors, business owners, and concerned citizens regarding the
negative impacts of dispensaries, including flyers, leaflets and
stickers advertising dispensaries located on school grounds; smoking marijuana outdoors within 1,000 feet from schools; operating near sensitive uses, and constant activity around dispensaries at all hours."
Arranaga admits his is a textbook case of Not-In-My-Backyard-itis, but he sees no reason why dispensaries shouldn't have to go through a standard procedure to have their business location improved.
"We get the whole medical marijuana thing, but we would not have voted for this if they'd called it the 'Pot Store Campaign,'" he said.
Arranaga and the Eagle Rock Neighborhood Council have since been increasing pressure on the Los Angeles City Council, which called a moratorium on new dispensaries in 2007 to stall their development as they worked on drafting regulations.
Local activists also put pressure on the Los Angeles City Council before it met on March 6 to vote whether to extend the moratorium, originally set to expire this spring. The City Council voted unanimously to extend it until September 2009 to give them ample time to draft regulations that properly address public concerns.
Councilmember Dennis Zine said in a statement that "he hoped the final extension of the moratorium would give the City Attorney time to write an ordinance ... which incorporates the input of the community."
Until the moratorium finally expires, Los Angeles' dispensaries will still be operating in legal limbo. But the fact that the federal government has put an end to raids helps take some pressure off dispensary owner-operators, like Kaufman and his family, who see their business as a benefit to the community.
"Basically, I'm a compassionate person, and I do see medical marijuana helping people a lot," Kaufman said.
New laws are currently being drafted by the City Attorney's office that will limit the amount of dispensaries within certain areas and keep them from operating too close to schools.